Dear Aloha-kun . . .
Never have I ever felt this way towards anyone else before, so when we first met it was like I had finally found the one thing I had never had.
Is this what love is? Is this what it feels like to be truly in love?
You have been with me through all the hard times, and the good ones too. It's been years since we first met, and I hope we will be together for years to come.
You make me smile, laugh, cry.. and no matter what happens to me, no matter how many things or people I lose, you will be by my side through it all.
Whenever I'm feeling awful, the reminder of you will always be enough to make things better, even when they seem hopeless. And you never leave me. I can't believe I've spent so many years beside you.
Not once have I seen you anything but optimistic, seeing the light at the end of the tunnel in any situation.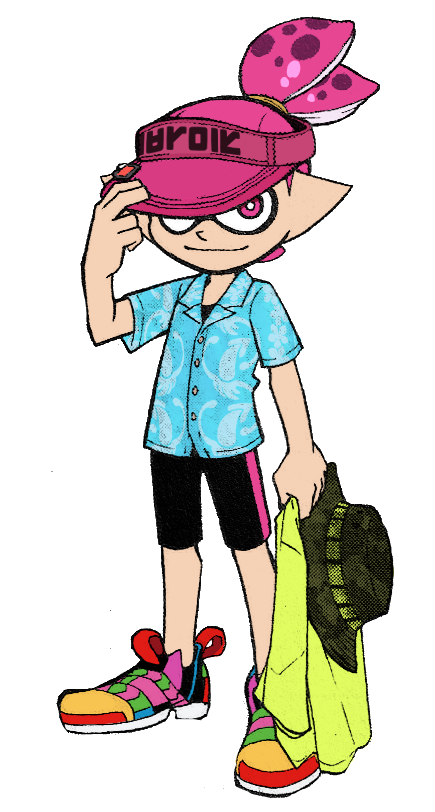 You are my always-shining beakon of hope, and I love you.
I love the way you smile, and that you keep smiling even when things don't go as planned. You've got such an unmistakable smile, anyone would recognize you.
I love the way you can light up a room with your attitude, and make everything so much more exciting. I love the way you dress, and the way you tilt your visor when you're nervous, even if it can't cover the grin always plastered on your adorable face.
I love how playful you are, and how you're able to crack jokes regardless of the situation. Even if you don't try to, you're an inspiration for many inklings, and I feel so lucky that I can even be with you.
Aloha, I love you.
I'll scream it from the top of the roof, I love you.
I love you so so so much.
You are mine and I am yours, my sweet Aloha.
Aloha, stay with me forever. Follow me wherever my spirit may go next, just like you always have.
Stay with me even if the whole world is against me. No matter what happens, all I need is you.
I'm so in love with you.
No matter how many times I say it, my words will never do justice to the amount of warmth in my heart. But just know, wherever I am, and wherever you may be, I will love you just the same. I will always love you just the same. And no matter how many times I say it, my love will never dwindle.